A proposal in the January 15 2021 Federal Register took the Pathology community by surprise and created quite the excitement in the early weeks of the new year. The Food and Drug Administration was contemplating to waive permanently the section 510(k) requirement for premarket review for Digital Pathology Image Viewing and Management Software.
As strong proponents of digitization in pathology and image analysis, the Inspirata team reacted swiftly to this development, putting together a resource center to allow pathologists and administrators to understand better what that regulatory change may mean for their departments. One of the most popular items on that resource center turned out to be our pulse survey, seeking to collect early reactions to this important FDA proposal.
The community has spoken, and very loudly to boot. In the course of a month, we received over 100 responses, most from pathologists based in the United States, but some coming from Canada, the United Kingdom and even other countries.
Digital Pathology Is No Longer an Unknown Novelty
I am excited to report that more than half of survey takers believe the recent move by the FDA is an attestation that digital pathology has reached maturity. In fact, approximately 15% strongly agree with that statement, while only less than 8% disagree with it.
Very much in line with that, 22% of the respondents expect digital pathology adoption to increase rapidly if primary diagnosis becomes permanently available without the Section 510(k) premarket notification requirements. Another 38% expect adoption to increase but more gradually. It is notable to mention, however, that close to a quarter of respondents are still unsure what the impact of the FDA proposal would be on digitization.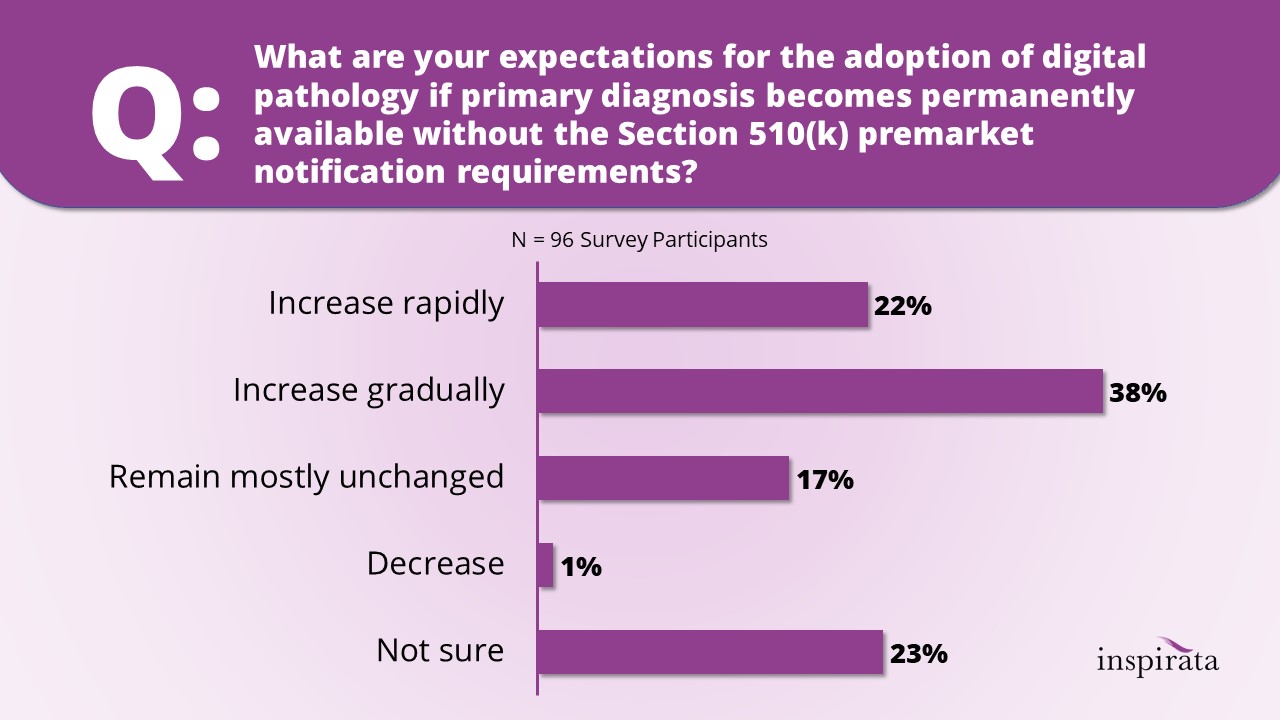 Overall Positive Outlook on Deregulating Digital Pathology
Perhaps, out of abundance of caution, a little over half (51%) of pathologists prefer to remain neutral in the discussion whether the Section 510(k) premarket notifications should be permanently waived for Digital Pathology Image Viewing and Management Software. Twenty-seven percent, however, strongly agree with this proposal. On the opposite side, only a handful (6% to be precise) disagree with FDA's consideration.
Despite the relative reluctance in taking a strong stance in favor of or against the proposal, a great part of the community self-identifies between somewhat and very confident that the FDA proposal will successfully pass after the 60-day comment period.
Ongoing Lack of Awareness of the Proposed Regulatory Changes
One thing I mentioned earlier is the great job our team did in putting together resources for our colleagues to understand the FDA proposal in more detail. We did that because we anticipated that a large percentage of the community will have very little knowledge of the development, as the specialized media somehow let this important piece of news pass relatively unnoticed in January.
Not surprisingly, we found out that 37% of respondents were not familiar with the news at all until they came across Inspirata's announcement and survey. Another 10% were only slightly familiar.
We strongly encourage everyone who has a professional interest in pathology to spend more time on understanding what the current development means and how it can impact their day-to-day workflow. A good start would be to take the survey while it is still running and receive a personalized report with the results. We also recommend listening to my colleague, Richard Morroney, who recorded a special edition episode on the topic for the Digital Pathology Today podcast series.
Would you like to share your opinions on the topic? Tell us what you would like to write about, and we will be happy to host you as a guest author on this blog.