Critical Question Facing Pathologists: Will There Be Enough Capacity to Serve the Backlog of Cases When Normal Scheduling Resumes?
As my team and I prepare for the upcoming virtual fireside chat on the Future of Pathology in a Post-COVID-19 World, we analyzed the treasure trove of data coming from our recent eponymous survey. One of the first things we inspected was in how many months, after resuming normal scheduling, pathology departments expect to experience the highest backlog of cases. Perhaps not surprisingly, the vast majority of respondents – approximately two-thirds of them – expect to see that "bulge" in the first 3 months.
We then looked at survey results from the accompanying question about the timing of resuming pre-COVID-19 capacity. Alarmingly, although still not very surprisingly, the majority of respondents do not expect to see that happening too soon. In fact, close to 60% of respondents do not foresee getting back to normal capacity in the first 3 months. A quarter do not expect to reach capacity 7 months or more after resuming normal scheduling.
---
Figure 1. Distribution of Survey Responses (Recorded May 5, 2020)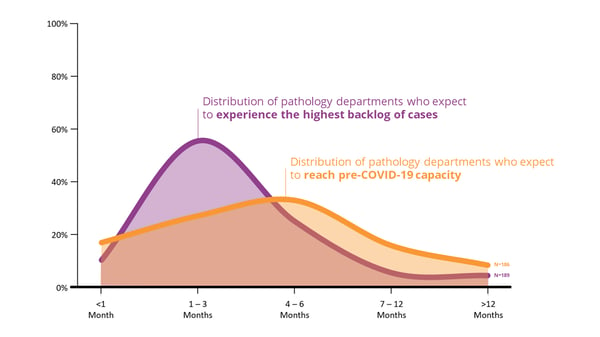 ---
Since our survey captured responses from a diverse audience, with only 45% coming from the United States, and the remaining 55% representing more than 15 countries across Africa, Asia and Europe, we are starting to look at the Backlog "Bulge" as a challenge with international proportions.
What Can Pathology Departments Do to Alleviate This Challenge?
Faster deployment of digital pathology is one obvious solution. The ability to offer remote working flexibility and/or outsource to partner institutions who may have more capacity can certainly help balancing the case load. This may explain why more than half of the survey respondents report greater levels of interest in digital pathology now than before the pandemic started. Of course, there may be many alternative and innovative solutions. Therefore, we'd like to hear from you.
Your Thoughts Are Welcome
Our goal is to take the discussion we started with the fireside chat and make it an ongoing exchange of ideas on the Future of Pathology. The COVID-19 threat will pass but the need to think proactively about where our profession is going will remain. We look forward to adding many more posts to this new blog, some authored by us, others by our partners or, why not, even by you?
We would like to hear from anyone willing to share their ideas. You can join the discussion by simply commenting under our posts. For those who are feeling more adventurous and creative, we would like to extend an invitation to guest-post on our blog. If you are interested, send us a note with your proposed topic and we will be in touch.
The future of pathology is exciting, and we look forward to exchanging ideas about it. Sign up to receive updates about new posts on this collaborative blog.